Ali international station: the number of product clicks in the first week of the live broadcast venue of the new trade festival in March increased by 50 times
March 13 news, Ali international station in March new trade Festival has officially opened more than a week. According to the data of Alibaba international station, the total amount of transactions received in the first week increased 171% year on year, the number of orders increased 121% year on year, and the number of buyers paid increased 101% year on year. In just four hours, it will surpass the actual transaction volume on the first day of the new trade festival in March 2020. In addition, the number of product hits in the live broadcast venue with the highest business attention increased by 50789% compared with last September's purchasing Festival; the total number of buyers in DDP venue with millions of popular products increased by 100% month on month, and the volume of products participating in the event increased by 2531% compared with last September's purchasing Festival. The top 10 industries in terms of transaction volume have emerged one after another, and the performance of sports and entertainment, clothing, home appliances and other industries is eye-catching, with a year-on-year growth rate of 200%.
Nantong Rhino Homeware Co., Ltd.
Nantong Rhino is dedicated to OEM and ODM services, especially for well -known brands, such as Mercury, Mendale etc. Moreover, we assist E-commerce company to supply products what sell on Amazon, Ebay and so on. We are ability to help customers develop new products on material, design and packing.
On March 12, our business personnel conducted a live broadcast, which attracted many sellers to watch the live broadcast The products in the liveshow include various custom weighted blankets 、tufted/seersucker/plush shaggy/pinch pleat and other duvet cover bedding sets.A large number of 10% discount volumes were distributed in the live broadcast, and the number of live likes exceeded 150000 .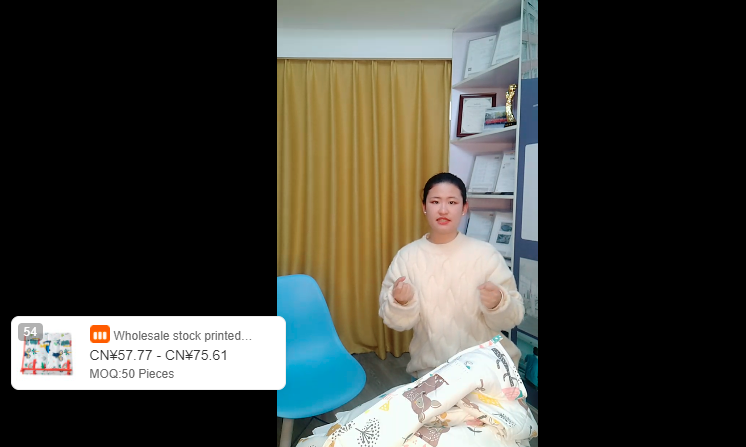 Our next live broadcast will be held on the 18th Beijing time. Welcome to watch.https://watch.alibaba.com/v/15096ddf-61cd-40fb-9b87-ca66d0d109a5?referrer=SellerCopy