Nantong Rhino homeware co.,ltd in 126th Canton fair
Nantong Rhino homeware co.,ltd took part in the 126th Canton fair from 10/31-11/4.
186,015 people from 214 countries and regions attended the 126th Canton fair. In 2018, China's top 10 trading partners accounted for 61.62% of the total participants.Buyers from One Belt And One Road countries attended 85,445, with a year-on-year growth of 1.03%, accounting for 45.93% and a year-on-year increase of 1.37 percentage points.
The top 20 countries and regions accounted for 60.56% of the total number of participants.The top 10 countries and regions were Hong Kong, China, the United States, India, Thailand, South Korea, Russia, Taiwan, Japan, Malaysia and Indonesia.
In 2019, 107 of the world's top 250 retail companies showed up, and five of the top 10 were wal-mart, Schwartz, amazon, walgreens and CVS health.
Well-known international chain enterprises such as German leide company, American sheng-brand company, oushang GROUP of France, lekou of Korea, TAURUS GROUP of Spain, KESKO GROUP of Finland and changyou GROUP of Indonesia continue to participate in the procurement activities of multinational companies at the Canton fair.
Among the buyers attending the meeting, electronics and home appliances accounted for 40.71%, daily consumption category accounted for 31.93%, home decoration category accounted for 28.34%, gifts category accounted for 27.23% and machinery category accounted for 26.48%.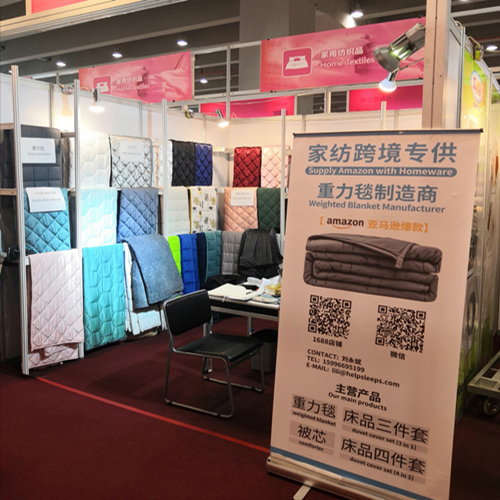 At this fair, Nantong Rhino homeware co.,ltd brought the most popular products weighted blanket for show.
Weighted blanket is suitable for someone who suffers with challenges from anxiety, sensory processing disorder (SPD), ADD/ADHD, Alzheimer's, Parkinson's, restless leg syndrome, or any other condition that affects mood or sensory input. Occupational therapists and others (including our current customers) recommend weighted blankets to help alleviate many of these issues and increase mood, focus, and relaxation.
It's very popular in North American and Europe.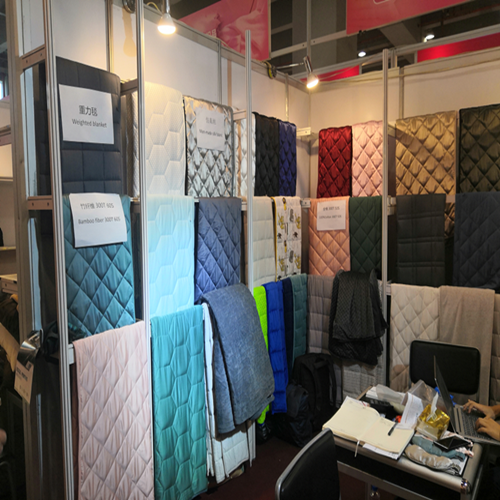 Nantong Rhino Homeware co.,ltd specialize in the weighted blanket, many different kinds of weighted blanket are shown at the fair, including cotton, organic cotton, Sherpa, micro finer, polar fleece, bamboo fiber, functional fiber in different weight, size, and quilting shape.