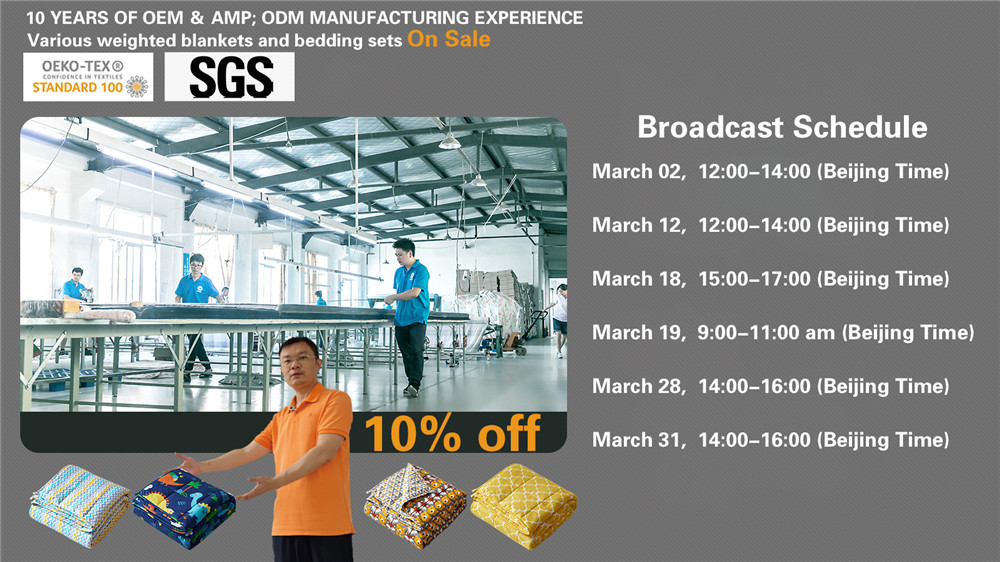 March Expo 2021 10%-20%off All Products
March Expo 2021
As one of the two major activities of Alibaba international station, "new trade festival in March 2021" will officially open on March 1, Beijing time.
Ali international station said that this year's March new trade festival will be committed to eliminating the adverse impact of the epidemic on small and medium-sized foreign trade enterprises, and provide assistance for millions of small and medium-sized enterprises to grasp the new opportunities of digital foreign trade under the epidemic through investment in business opportunities, performance guarantee and operation efficiency improvement.
Many businesses will carry out large-scale promotional activities in March.
Nantong Rhino Homeware Co.,Ltd
It is a professional manufacturer of home and textile industry more than 10 years.
Our main products includes: customized weighted blankets, plush shaggy duvet cover set, seersucker duvet cover set, tufted duvet cover set, pinch pleat duvet cover set, pregnancy pillow and various bed sheet duvet cover set. In march, most of these products will be on sale.
Our products are certified by SGS. We are constantly committed to product research and development to provide customers with more comfortable and beautiful products at a reasonable price. Besides, we are dedicated to OEM and ODM services.
In March we will have live shows, you can grab the coupon in the studio. Most of our products will be 10% off at least.
https://helpsleep.en.alibaba.com/?spm=a2700.details.cordpanyb.4.795421f4Ly5bs5
Broadcast Schedule
March 02, 12:00-14:00 (Being Time)
March 12, 12:00-14:00 (Being Time)
March 18, 15:00-17:00 (Being Time)
March 19, 9:00-11:00 am (Being Time)
March 28, 14:00-16:00 (Being Time)
March 31, 14:00-16:00 (Being Time)