Weighted blankets are some of the most effective products to aid in the release of serotonin available to the public. These are a wonderfully therapeutic option for anyone suffering from stress and anxiety, sensory disorders, or anything creating problems with focus and attention. Easy to purchase or make, these blankets require the proper filling to create the molding weight that triggers touch therapy techniques. The most popular filling which gives weight is glass beads(glass bead weighted blanket).

What kind of glass beads are used in weighted blankets?
The glass beads that are used to fill weighted blankets are also referred to as micro glass beads, as they are tiny, minuscule beads, and they resemble sugar crystals or white beach sand in look and feel. Glass beads are considered top quality, and the most luxurious and quiet filler when it comes to weighted blankets.
Almost all weighted blankets are designed to be used with a duvet cover of some sort and use an outer cover of cotton, bamboo, or polyester blends to provide a comforting feeling. Inside you will generally find a thin layer of polyester or polyfoam that encompasses quilted baffle boxes of fill. These boxes are sewn to help evenly distribute the weight to provide the malleable heft. This fill is what creates the mouldable weighted feel they provide, with some filling options more favorable and effective than others.
Weighted blanket filling options
Micro glass beads for weighted blankets
From ancient times to the modern-day, the making of glass beads remained an art passed on from one generation to another. Scientists, historians, and archaeologists still can't determine where the knowledge of bead making came from, possibly ancient Rome or Egypt, maybe Mesopotamia? Wherever it is from, one thing is certain: once the production of beads started, it never stopped.
The glass beads were mainly made for decoration and still are. But now they also have a utilitarian purpose!
Micro glass beads and ceramic glass beads are the best options for filling your the best weighted blankets if smoothness is what you're looking for when you're choosing your fillers. Their texture is similar to that of sand. If you're using glass bead fillers, you can be sure no bumps will appear as the beads are distributed evenly.
weighted glass beads are extremely tiny and have a similar look and feel to white beach sand or salt crystals. They kind of make me think of Xylitol, you know, the fake sugar.
They will feel much smoother inside your best weighted blankets too and are probably the best selection for people with any type of auditory, sensory, and physical sensitivities.
Glass micro beads are also a bit heavier than their plastic counterparts, and therefore you'll need fewer glass beads to achieve your goal than you would with plastic pellets. Great for someone who wants weight but not an extreme amount of bulk on top of them.
Glass microbeads are really tiny, and for that reason, they need to be sewn into the weighted blankets with extreme care.
If there's even a small hole in the weighted blankets, the beads will easily fall out. About glass bead weighted blanket washing, A diy weighted blanket with glass beads shouldn't be put in the washing machine. It's better to wash it by hand than risk a ruined blanket or washing machine.
Plastic poly pellets for weighted blankets
They are small round plastic beads with a pebble-like texture. They are commonly made from ABS virgin plastic which means they have not come into contact with toxins and other chemicals.
Note that if you have skin or sound sensitivities, then this may not be the best option for you. A smoother texture may be better, like the one glass beads provide, for example.
If you choose to use plastic pellets inside a cotton stuffing, it could help a bit with the noise they make, but be aware that they might feel a bit uneven if they aren't carefully constructed. Your blanket might end up being lumpy, and this could irritate you at night if you are sensitive to that type of thing.
If you use minky or fleece fabrics with plastic pellets, you'll have a softer texture due to the thickness of the material. You might still be able to feel the rougher texture of the pellets, but you won't necessarily see it.
Steel shot beads for weighted blankets
Steel shot beads are another common filler for weighted blanket cover. Even larger and heavier than glass beads, steel shot beads have a completely smooth, round surface ideal for keeping weighted blankets comfortable and calming.
Weighted blanket beads have many benefits:
First, since they are larger in size, it takes fewer units of beads to achieve the desired weight.
Second, their larger size makes them less likely to leak through the stitches of the blanket. Leaks are not common in a well-made best cooling weighted blanket, but on the rare occasions that they can occur, they can be quite messy and difficult to refill and mend. Any fillers that help deter possible leaks are a welcome benefit.
Third, steel shot beads are extremely durable. They are made of steel, after all. Steel beads never wear out. Their impeccably smooth surface also prevents them from collecting dirt, keeping the inside of the weighted blanket cover clean and virtually allergen-free.
When the heaviest weighted blanket does need to be thrown in the washing machine, steel shot beads do not pose any problems, they are completely washing machine-safe.
The only potential drawback to steel shot beads is that they can be a little noisier than glass beads and plastic-pellets. Usually, this only affects those with auditory sensitivities.
If the noisy steel shot beads can create a nuisance to the consumer, consider a weighted blanket cooling cover that also incorporates cotton stuffing in the lining of the filled pockets. This will help muffle the noise and can also add a layer of comfort.
Overall, steel shot beads may be one of the best weighted blanket fillers, as long as the user does not have acute auditory sensitivity.
Sand for weighted blankets
Sometimes, although not very often, and is used as a filler for best weighted blanket covers. It is an inexpensive commodity and also easy to get.
However, its price is pretty much the only advantage of using sand in weighted blankets. Many people may assume that sand is an organic addition to making weighted blankets, but most sand available for craft use is only semi-organic material.
Craft sand has a tendency to clump, especially when it gets wet.
Sand does not disperse as evenly throughout the blanket, either. It is difficult to evenly distribute weight in a heaviest weighted blanket when sand is used as the filler.
Washing and drying are also difficult, sometimes sand can clump so badly that the blanket really loses its shape after its first wash. Drying a weighted blanket with sand can be a monumental task. These blankets should be line dried, but it will take significantly longer to dry than blankets made with pellets or beads.
Keep in mind also that sand is more likely to leak through stitching than other materials. Sand is also quite messier than pellets or beads if there is a leak.
If sand is used as a filler, make sure that stitches are reinforced and consider sending it to a dry cleaner periodically for cleaning so that the hassle of washing and drying can be avoided.
Product Parameters of best glass bead weighted blanket: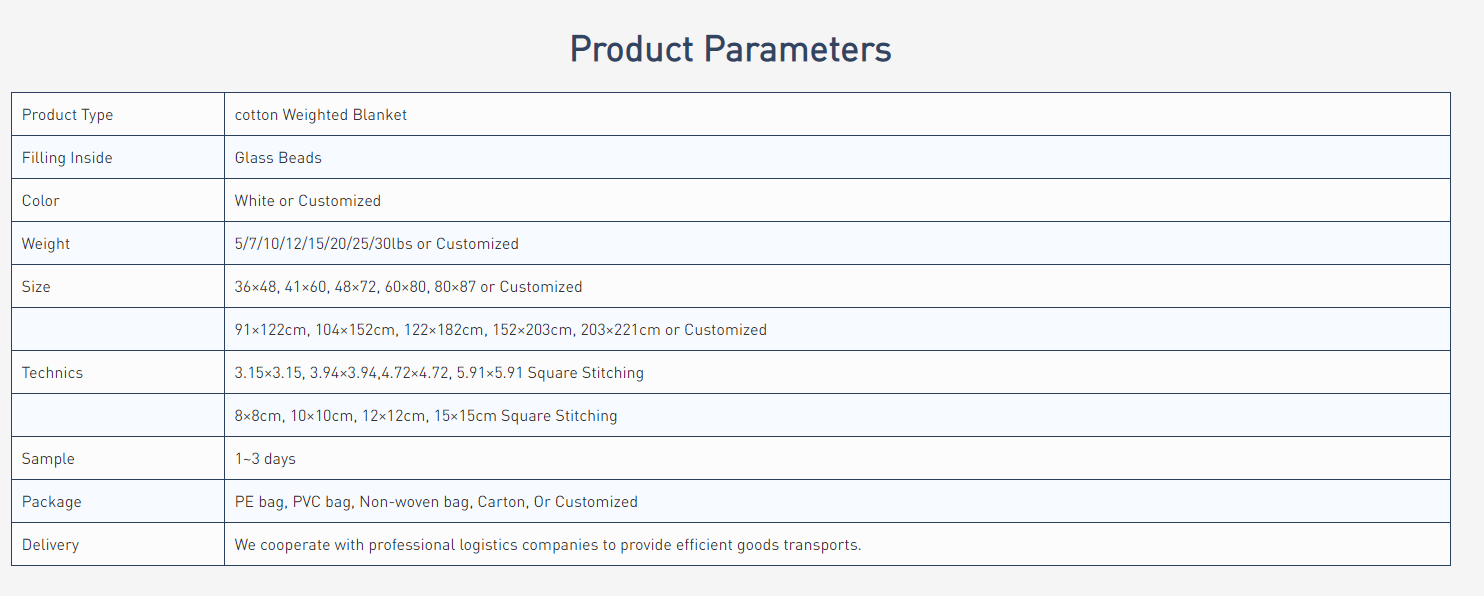 Best glass bead weighted blanket product features:
◆ Spray cotton and glass bead filling, increase product weight, have the feeling of being wrapped
◆ The small bag can ensure that the beads are fixed in place and evenly distributed. This prevents the beads from slipping and the inside of the quilt.
◆ Three-dimensional quilting technology, fine thread, and fine stitching, quilting qualitative technology.
◆ High color fastness, safe printing, and dyeing, not easy to fade, let you have a healthy life.
Product picture of weighted cooling blankets with glass beads: