RHINO'S WEIGHTED BLANKETS AND OEKO-TEX® STANDARD 100
Textiles used in typical bedding may contain traces of chemical compounds that may be harmful to your health, but we wanted to do things differently. Our textiles are sourced from premium providers and have far surpassed the certification standards to provide you a high level of safety from chemical substances, so you and your loved ones can sleep safer and healthier night after night.
Weighted blankets are the special kinds of bedding products what made by many different materials. Not like the common bedlinens. Besides of the fabric, there is interlining, poly-fill, glass beads.
Nantong Rhino Homeware Co.,ltd carefully reviewed the production capacity, process flow and material sources of all raw material suppliers to ensure that the products provided are completely environmentally friendly. Today, our weighted blanket products have passed the test of TESTEX in Switzerland and obtained the certificates on Annex 6, product class II.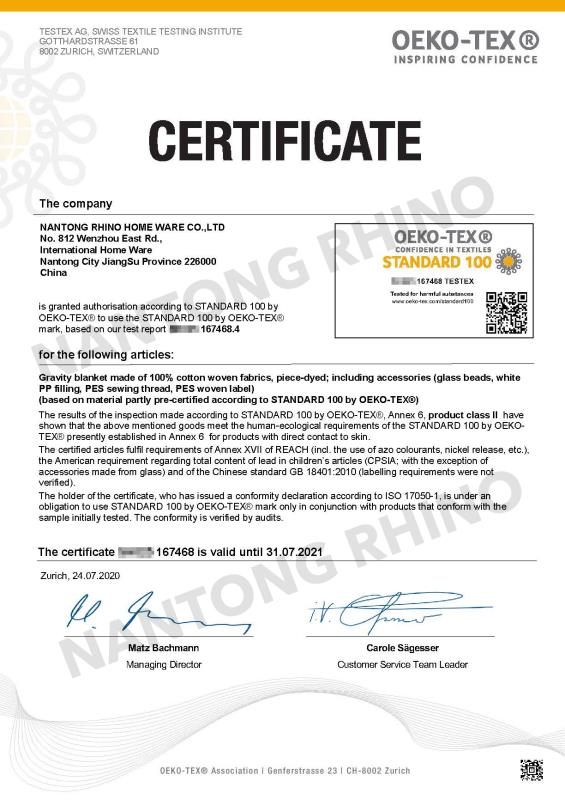 PURCHASING OUR OEKO-TEX® STANDARD 100 CERTIFIED WEIGHTED BLANKETS MEANS THAT YOUR NEW WEIGHTED BLANKETS:
✓ Does not contain PFOS (perfluorooctane sulfonate) or PFOA (perfluoroctanoic acid)
✓ Does not contain any chemicals listed on Proposition 65
✓ Does not contain any REACH listed chemicals (Substances of Very High Concern)
✓ Does not contain any EPA regulated Section 313 chemicals
✓ Does not contain formaldehyde, phthalates, heavy metals, bishphenol BPA, or dioxin
✓ Does not contain PBDEs or other Halogenated Flame Retardants
✓ Low VOC's (Volatile Organic Compounds)
✓ PVC free
WHAT IS OEKO-TEX® STANDARD 100
The Standard 100 by Oeko-Tex product label, introduced (as Oeko-Tex Standard 100) in 1992, certifies adherence to the specifications of the standard by the same name, a document of testing methods and limit values for potentially harmful chemicals. This independent testing and certification system may be applied to textile materials, intermediate products at all stages of production and ready-made textile articles. Examples of eligible items for certification are raw and dyed finished yarns, raw and dyed finished fabrics and knits, and consumer goods (all types of clothing, home and household textiles, bed linen, terry cloth items, textile toys and more)
The Standard 100 by Oeko-Tex aims at making it obvious to consumers that the labeled textile products have undergone laboratory testing for a wide range of harmful substances, and that the content of those substances remains below the limit values established by the Oeko-Tex Association.
The introduction of the standard established a globally standardized quality assurance system for manufacturers and retailers, taking into account the decreased vertical range of manufacture in the individual facilities of the textile and clothing industry, and compensating for regionally different evaluation standards for the risk potential of harmful substances. Use of the Oeko-Tex certificate documents compliance with human-ecological requirements to subsequent production levels and consumers.
Textile products can only be certified according to the Standard 100 by Oeko-Tex if all components comply with the required criteria – for an item of clothing, in addition to the outer fabric, this might include threads, linings, prints as well as non-textile accessories such as buttons, zip fasteners, rivets or any other accessory parts.
Extent and requirements of Oeko-Tex testing for harmful substances depend on the intended use of a textile product. There are four product classes:
Product class I – Items for babies and infants (up to 36 months of age)
Product class II – Items with direct prolonged or large-area skin contact
Product class III – Textiles without or with little skin contact
Product class IV – Furnishing materials for decorative purposes (curtains, table linen, carpets, etc.)
Product class I requirements are more rigorous for most potentially harmful substances, and there is an additional test for saliva resistance.
Test criteria and limit values are globally binding and are updated and expanded each year. The current version of the Standard 100 is available at the official website.[4] Test parameters include substances banned or regulated by law as well as yet unregulated substances that are known to be problematic.
Textile products are tested for their content of several hundred individual substances from 17 groups of chemicals. The standard takes into account:
Important legal regulations (e.g. banned Azo dyes, formaldehyde, pentachlorophenol, cadmium, nickel)
Requirements of Annexes XVII and XIV of the European Chemicals Regulation REACh and of the ECHA SVHC Candidate List that are assessed to be relevant for fabrics, textiles, garments or accessories by expert groups of the Oeko-Tex Association
US Consumer Product Safety Improvement Act (CPSIA) requirements regarding lead
Numerous other environmentally relevant substance classes
Numerous substances known to be harmful to health or environmentally relevant but not yet subject to any regulation
Furthermore, all tested items must have a skin-friendly pH value and good color fastness. They are tested for emissions of volatile chemicals and are subjected to an olfactory test.
Once issued, the Oeko-Tex certificate is valid for one year.
The Standard 100 by Oeko-Tex is the product label for textiles tested for harmful substances with the largest prevalence worldwide. More than 10,000 manufacturers in almost 100 countries currently participate in Oeko-Tex certification. To date, the Oeko-Tex Association has issued over 160,000 Standard 100 certificates for textile products from all stages of production (as of 12/2015).[5]
According to a consumer survey by GfK in 2006, the label 'Confidence in Textiles' has a brand recognition (aided recall) level of over 46% in Germany. A consumer survey by BBE Retail Experts carried out in seven European countries (Austria, Switzerland, France, Italy, Spain, Portugal, Netherlands) in 2008 found an average recognition level of 42% for the Oeko-Tex label. In a 2012 survey with 3349 participants from 13 countries (Germany, Austria, Switzerland, Spain, Italy, France, Portugal, Great Britain, Denmark, Poland, Russia, Turkey, China), the Cologne Institute for Research in Retail Issues (IFH) found a mean aided recall level of 42% as well.