Weighted blankets have long been used by occupational therapists for children and adults with sensory issues to aide with sleep and relaxation, but it's only in the past year or two that the trend has spread to the larger sleep industry—so it's no surprise there's now an option for babies too.
Why Weighted blankets help sleep
Research has shown that deep pressure stimulation – the concept behind weighted blankets – has been shown to help adults and children who have attention difficulties, sensor disorders, anxiety, and autism. It's a viable and drug-free way to increase both serotonin and dopamine for an overall calming, relaxing effect.
The blanket is filled with glass beads to increase the weight of the quilt, which is wrapped around the body by gravity. Basically, lying under a gravity blanket feels like being hugged and held – and it leads to peaceful, comforting feelings related to serotonin and dopamine, the two chemicals largely responsible for good feelings.
What are weighted sleep sacks
A weighted sleep sack is an innovation and improvement on the traditional sacks, designed for babies under 24 months of age to help them sleep, it keeps the style of the traditional sacks, and fill the glass beads between the interlining of the front part of the sack, enlarge the dimensions at the weft. The weighted sleep sacks are widened to provide a good wrap around the baby's body and give him a warm hug.
Nantong Rhino homeware co.,ltd picked the natural cotton materials and interlining with OEKO 100 standards. Use heather grey yarn instead of the bright-color, for reducing the dying stuff applied.
Is weighted sleep sack market well
This is a new product, a derivative of the weighted blanket, It fills a gap in the baby market for weighted blankets.
Here is the latest news. A Danville local dove into the "Shark Tank" last week, and came out with a $100,000 investment after a successful pitch on ABC's entrepreneurial reality show.
After pitching her idea of a weighted baby blanket called "Dreamland Baby" to the "Shark Tank" crew, Danville resident and mother Tara Williams agreed to a deal with investor Lori Greiner for $100,000 in exchange for a 22.5% stake in the company.
Dreamland Baby is a weighted blanket that was designed to help make Williams' own baby go to sleep after a number of restless nights had left her and her husband desperate for slumber.
At 6 months old, Williams said that her son Luke was still waking up every hour and a half, leaving both parents exhausted. In an effort to help her son sleep, Williams said she and her husband placed him under a heavy throw blanket and saw instant success.
On the other side of the ocean, a factory in China has also designed and manufactured weighted sleep sacks. Nantong Rhino Homeware Co.,ltd Is a professional brand OEM enterprise, committed to the brand business to produce the best quality, the most valuable products in the market.
Keep in Mind
The weighted bag is filled with non-toxic beads and won't prevent your baby from moving around or even rolling over. (It's also perfectly fine for the washing machine too.
Weighted sleep sacks of Nantong Rhino Homeware
There are 4 different sizes of the new coming weighted sleep sacks that for baby at a different age.
Also, Nantong Rhino accepts customized size according to any brand holders. Although the first developing with heather grey cotton fabric, the brand holders can pick the different material quality in our material library. What can be bamboo, organic cotton, and woven or knit options?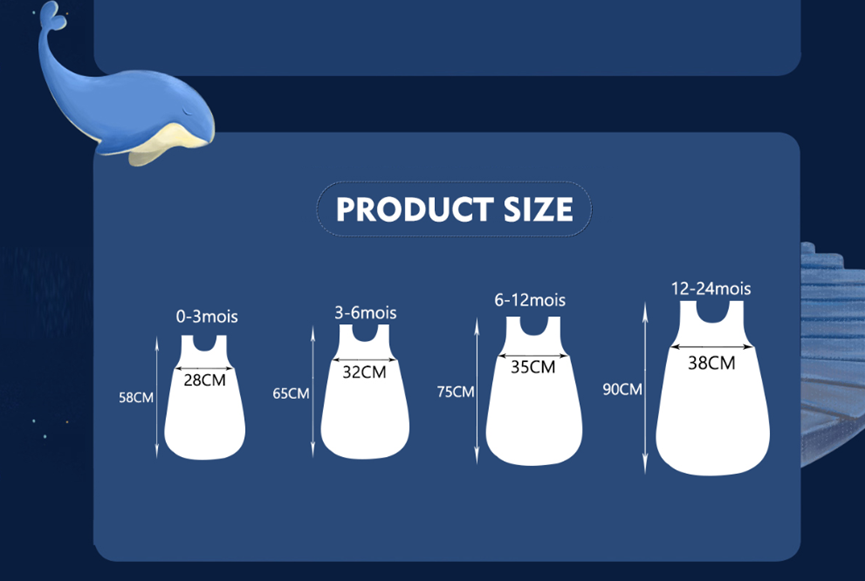 You are always welcome to contact us for quotation and sample development.